Nothing More Costly Than Not Funding Transportation.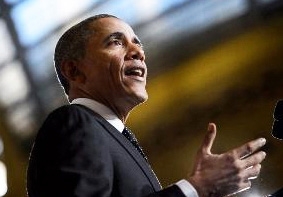 When both Republicans and Democrats agree on something as big as transportation funding, that means it's important. In keynote addresses, Gov. Scott Walker and President Barack Obama highlighted the importance of investing in our infrastructure and all the industries that rely on a strong transportation system. With federal transportation funding authorization (Moving Ahead for Progress in the 21st Century Act, or MAP-21) set to expire at the end of September—and the Highway Trust Fund (HTF) facing insolvency earlier this summer—securing transportation funding is more than just an important issue. It's an urgent one.
President Obama's proposal in February for a four-year, $302 billion surface transportation funding bill has accelerated activity among lawmakers on both sides of the aisle to resolve the impending transportation funding crisis. Rep. Bill Shuster (R-Pa.), Chair of the Transportation and Infrastructure Committee, is leading a bipartisan effort to add specifics to the President's proposal and pass a funding bill to meet the nation's needs.
A dire need
The consequences of inaction would be significant, and they would be felt back home in Wisconsin. Kevin Traas, Director of Transportation Policy and Finance for the Wisconsin Transportation Builders Association (WTBA), shared some of the implications. "Losing federal funding would be a major blow to Wisconsin," Traas says. "Federal funding accounts for 25 percent of Wisconsin's total transportation budget and about 55 percent of the highway construction budget. The immediate impact on the Wisconsin economy and jobs from this loss would be tremendous."
Inadequacies in current federal funding mechanisms are a root cause of the issue, Traas explains. "Congress has been kicking the can down the road for years," he says. "The federal gas tax hasn't been raised since 1993, and it can't provide enough revenue to the Highway Trust Fund." In the past seven years alone, Congress has transferred more than $50 billion from the general treasury to the HTF to meet shortfalls. To avoid major program cuts later this year, Congress will have to do something similar or seriously consider alternative revenue streams.
Those alternative solutions are out there. "This isn't a new problem," Traas says, "and several funding solutions have been considered carefully." Among these are increased fuel taxes and other user fees, such as fees for vehicle miles traveled or toll road expansion. "Lawmakers must find and exercise the will to make something happen to fund the program," Traas says.
Transportation as a utility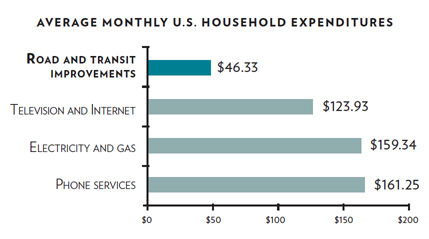 Any solution must be acceptable to the public as well, and taxes are never popular. However, one perspective that Traas offered is to consider transportation as a utility, like water, gas or phone service. "Reliable roads and bridges are basic needs that Americans should be willing to pay for," he says.
The American Road & Transportation Builders Association (ARTBA) makes the case: The average U.S. household's monthly expenditures for television/Internet, electricity/gas or phone services far exceeds its expenditures in federal and state excise taxes for transportation projects. (See graphic.) "Bringing the spending level up for transportation to par with these other necessities would solve our funding problems today," Traas says.
Homegrown budget issues
Beyond federal funding issues and important deadlines this summer, funding developments in our state also merit close attention for those involved in the transportation industry.
According to Craig Thompson, Executive Director of the Transportation Development Association (TDA) of Wisconsin, the state's current laws do not sufficiently protect funds collected for transportation-related purposes. "In the past, about $1.4 billion allocated for transportation has been diverted to the state's general treasury," Thompson says. That led to a grass-roots, bipartisan movement to amend the state constitution to disallow such transfers in the future. (See the full story.)
Protecting transportation user fees collected for transportation projects is important progress, but it is just the first step in the process of long-term transportation funding. Making sure there is enough money must come hand in hand, and federal funding—even if secured—will not do the job alone.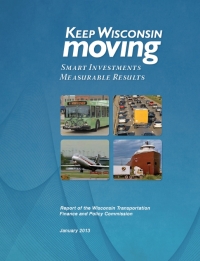 This was the finding of the Wisconsin Transportation Finance and Policy Commission, a bipartisan citizen commission formed to outline the transportation funding requirements for the coming decade. The commission, which included TDA's Thompson among its members, submitted a report to Gov. Walker in January 2013 titled Keep Wisconsin Moving—Smart Investments, Measurable Results [PDF]. It provided specific recommendations on how to bridge the funding gap through 2023. These recommendations included:
Increasing the state excise tax on motor fuel
Adopting a mileage-based user fee for passenger vehicles and light trucks
Increasing the registration fee for weight-based vehicles
Increasing the driver license fee
Repealing the sales tax exemption for trade-in vehicles
These measures appropriately spread the burden of funding transportation across all transportation consumers: owners and drivers, light users and heavy users, private citizens and commercial carriers.
Thompson says that the commission recommendations could not be addressed in time for the state's 2013-2015 budget, but he is hopeful that they will be considered carefully for the next biennial budget, likely to be introduced by the Governor in February 2015. We agree that all options should be on the table. These recommendations merit careful consideration and debate, and represent a good starting point for the next budget.
"Regardless of what happens in Washington," Thompson says, "we need to take action at the state level if we want to have a transportation system to meet our needs for the decade to come."