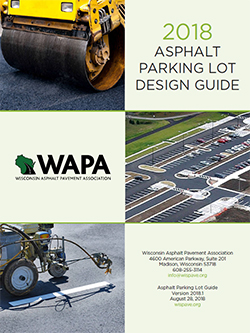 Announcing WAPA's all new Asphalt Parking Lot Design Guide for 2018.
This companion to WAPA's Asphalt Pavement Design Guide focuses on all phases of asphalt parking lot design. The guide is organized into five chapters:
Assessment and Planning
Subgrade and Drainage
Construction
Maintenance
References
Also included is a comprehensive 61-point Inspection Checklist to help an on-site inspector identify key processes and follow best practices to produce a quality parking lot.
August 2018 Update: This publication now includes a two-page Guide for New Parking Lot Owners. This new appendix explains what to expect from a new parking lot, best practices for optimum performance, and maintenance tips.
The Asphalt Parking Lot Design Guide is part of WAPA's commitment to supporting the growth and use of all types of asphalt pavement in Wisconsin. You can read more about the benefits of use of asphalt parking lots in our interactive brochure Asphalt Parking Lots: A Good Business Decision.
Please feel free to share this information with your colleagues and customers.
If you have any questions, or if you wish to receive a printed copy of the 2018 Asphalt Parking Lot Design Guide, please email WAPA at info@wispave.org.