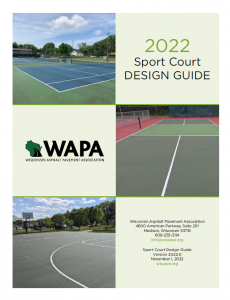 WAPA is pleased to announce our new 2022 Sport Court Design Guide.
Consumer demand for outdoor sport court installations — such as basketball, tennis, pickleball courts, etc. — continues to rise. But while the playing surface of these courts may appear different, below the surface they're generally constructed the same way using hot mix asphalt (HMA). We have developed this guide to help owners, contractors, design professionals, and suppliers in the design and installation of HMA for athletic purposes.
The chapters in the guide are:
Introduction
Supply and Workforce
Court Design
Materials and Hot Mix Asphalt Mixture Designs
Site Grading/Subgrade Preparation
Construction
Repair, Reconstruction and Renovation
Cleaning and Care Instructions
Steps to Ensure a Successful Project
References and Links
Please feel free to share this information with your colleagues and customers.
If you have any questions about the 2022 Sport Court Design Guide, please email WAPA at info@wispave.org.