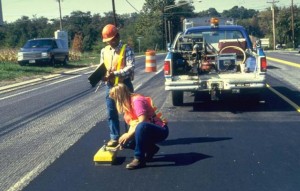 WAPA's Black Bag Lunch & Learn sessions can help answer a broad array of your asphalt-related questions, such as:
Should you consider a Perpetual Pavement design for your next project?
How does recycled asphalt perform over time?
What is Superpave?
What asphalt specifications should you use when designing a road for a subdivision?
How can you keep traffic moving during a project?
WAPA offers its Black Bag Lunch & Learn sessions free to its members and public organizations (they are available to nonmembers for a fee). We provide the latest information and applications for asphalt, tailoring presentations to meet your needs. At a time of tight budgets and limited financial resources, you want to deliver a quality product to your clients in the most cost-effective way. These sessions are designed to provide you with the latest information and technological advancements. The Black Bag Lunch & Learn program will give you the tools to deliver your project on time and on (or under) budget.
If you want a session exclusively on Superpave, we can do that. If you would prefer that we touch on a variety of topics, we can do that as well. Sessions typically last an hour, depending on the presentations requested. They can take place at any time of day—whatever is convenient for you, your colleagues and clients (we can accommodate multiple companies as well as public organizations at a single session). Simply review the list of presentation topics, select which ones you would like to have, and contact WAPA to schedule. It's as easy as that!
Asphalt Pavement Types

Roadway Facilities
Airport Facilities
Residential Driveways
Parking Lots
Stone Matrix Asphalt
Open Graded Friction Course
Porous Pavements
Warranty Asphalt Pavements
Life Cycle Cost Analysis

Pavement Structural Design

Mechanistic-Empirical (AASHTO 2002)
AASHTO '93
AASHTO '72
Elastic Layer Theory
FWD Analysis

Innovative Mix and Pavement Design

Long-Life HMA
Perpetual Pavement
Warm Mix
Cold Mix
Modified Asphalt
High Percentage Asphalt Recycling

Testing and Evaluation

Aggregate Testing
Binder Testing
Superpave
Superpave vs. Marshall
Superpave Laboratory Testing

Construction

Highway Technician Certification Program
QC/QA/QV
Cold In-Place Recycling
Base Course Compaction
Plant Operations
Lay Down and Rolling
Urban Construction
Ride Measurement
Paving Equipment

HMA Rehabilitation & Maintenance

Pavement Forensics
Pavement Management
Thin and Ultrathin Overlays
Rubblization
Pulverization
Pavement Widening
Route and Seal
Seal Coating
Chip Seal