WAPA's 61st Annual Conference and Business Meeting was held as a virtual event from December 1-3, 2020, with a mix of live and pre-recorded presentations.
Thank you to all attendees, presenters and sponsors who made the event a success. We could not have done it without your enthusiasm and dedication to advancing asphalt pavements in Wisconsin.
Attendees may claim up to 8 Professional Development Hours for attending. Download the PDH Certificate here.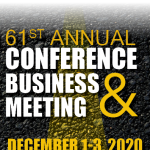 [hr]
MAIN CONFERENCE SESSION PRESENTATIONS
Day 1 – Wisconsin DOT Update

After a brief introduction from WAPA Executive Director Brandon Strand, we welcome WAPA President Mike Byrnes, WisDOT Secretary Craig Thompson, and a presentation of the 2020 Awards Winners and Scholarship Recipients by Debbie Schwerman, WAPA Engineering Director.

Day 2 – Return of the Economist: COVID-19 Economic Update

Anirban Basu, of Sage Policy Group, discusses the construction industry's economic outlook after COVID-19.

Day 3 – Election Analysis and Transportation Funding Update

Panelists Bill McCoshen of Capitol Consultants, and Ashley Jackson and Jay Hansen of the National Asphalt Pavement Association, provide post-election analysis and discuss the impact on transportation funding at the state and national levels.
[hr]
TECHNICAL SESSION PRESENTATIONS
WisDOT Asphalt Technical Update

WisDOT Bureau of Technical Services: Steve Hefel, Richard Barden, Jeff Anderson, Matt Andreini, Dan Kopacz, Erik Lyngdal, Albert Kilger

Pavement Management

Debbie Schwerman, WAPA Engineering Director
Back to Basics: Forensics

Buzz Powell, National Center for Asphalt Technology

Back to Basics: Tack Coats

Jim Musselman, National Center for Asphalt Technology

Back to Basics: Communication on Projects

Tim Murphy, Murphy Pavement Technology
Life-Cycle Cost Analysis

Debbie Schwerman, WAPA Engineering Director
Brandon Strand, WAPA Executive Director

Ethics Training

Jeff Russell, UW-Madison