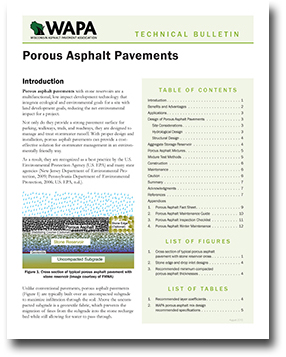 WAPA is pleased to announce the publication of our Porous Asphalt Pavement Design Guide.
Part of WAPA's Technical Bulletin series, this document addresses the issues surrounding the design, construction and maintenance of this exciting green technology.
The 12-page publication combines latest national best practices with Wisconsin-specific guidance. We hope it will be a valuable tool for pavement owners, designers and builders across the state.
Contents Overview
Benefits and Advantages of Porous Asphalt Pavements
Applications
Design
Site Considerations

Hydrological
Structural
Use of Aggregate Storage Reservoirs

Mixture Design and Test Methods
Construction
Maintenance
Resources and Citations
Quick-reference Guides:

Porous Asphalt Fact Sheet
Maintenance Guide
Inspection Checklist
Winter Maintenance
Please don't hesitate to contact WAPA if you have any questions about this publication or if you want to know how more about getting started with porous asphalt pavements.