It's paving season and we know you're busy. This brief Executive Update discusses new informational materials about asphalt pavements and the importance of communicating the benefits.

WAPA is an active participant in the Asphalt Pavement Alliance (APA), a coalition of state and national asphalt pavement trade associations dedicated to establishing asphalt pavement as the preferred choice for quality, performance, and the environment.
Through the efforts of APA, WAPA has compiled and published materials to help communicate the many benefits of asphalt pavements. These appear on our new Marketing page on our website, wispave.org.
Print Ads
Nine advertisements themed around "Drivability" draw on the voices of asphalt users and experts to highlight such benefits as enhanced safety, reduced road noise, ease of construction, and reduced traveler delays. Created by APA, these ads are high-resolution and appropriate for print reproduction, with several available in full- and half-page sizes. All are customized with WAPA branding, including our logo and website. (WAPA members, we can provide design files if you would like to further customize these for your informational campaigns.)
Videos
APA also produced six short (one- to two-minute) videos that dynamically illustrate the beneficial features of asphalt. These YouTube videos are easily embedded and shared in any website, providing an outstanding complement to the print materials.
We'll provide updates when we add new materials to WAPA's Marketing page. We hope you find these items informative and useful.

A May 2016 study, Wisconsin Transportation by the Numbers, produced by the national nonprofit research group TRIP presents a discouraging picture of our state's transportation system. A short graphic Executive Summary of the report prepared by the Transportation Development Association (TDA) of Wisconsin calls out the most significant challenges associated with our aging transportation infrastructure, including safety risks, high costs, and user delays.
Though some of the headlines are shocking—"Deficient roads cost Wisconsin drivers $6 billion annually"—the concern is not new. We have been writing for months about TDA's campaign to Just Fix It (see below on how to join that campaign if you haven't done so yet). Certainly, not all of the challenges in the report can be solved with asphalt.
However, the communication materials described in the previous article help explain how asphalt pavements can address some of these core concerns.
These are just a few of the ways that asphalt can make a real difference in tackling some of our state's challenges. Look to WAPA's resources on our website—or contact us—to learn more about the advantages of asphalt roads.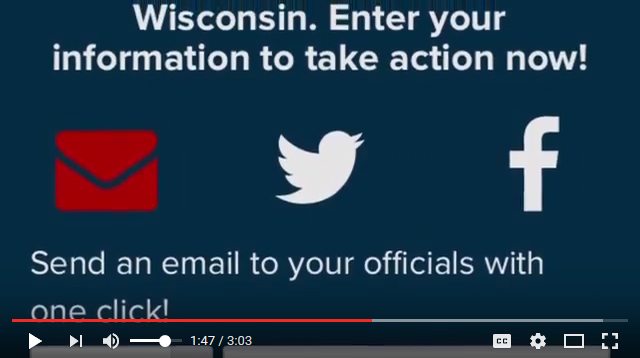 Talk is important, but action is vital.
Visit the Just Fix It page on the TDA website to join the grassroots effort to convince elected officials to act on transportation funding.
It only takes a few minutes to sign up to send a letter to your officials calling on them to find a long-term, sustainable funding strategy for Wisconsin transportation. TDA creates a new letter every month.
(Are you on the go? Then simply text JustFixItWI to 52886. You'll receive a link to the same page.)
It's that easy to get engaged and let your voice be heard. We strongly urge you to please consider joining this effort to tell our elected officials that they should Just Fix It when it comes to transportation.

Thanks for taking the time from your busy summer to give some thought to the importance of communicating the value of asphalt pavements, particularly to help address some of our state's most challenging transportation issues. It's a message that bears emphasizing and repeating.
The pillars of Wisconsin's economy—agriculture, manufacturing, and tourism—depend on our roads. These industries, plus retail sales and other transportation-dependent industries, account for almost 1.4 million jobs in Wisconsin, with $54.8 billion in wages. Our transportation system is too important to ignore.
As always, please don't hesitate to contact us if you have any questions or if there is ever any way we may be of assistance.
Thank you.



Brandon Strand
Wisconsin Asphalt Pavement Association