FOR IMMEDIATE RELEASE
Date: November 29, 2016
Contact: Brandon Strand (608) 609-8024
WisDOT, FHWA Earn State Asphalt Award
Work on STH 21 also receives honors for D.L. Gasser Construction
Madison – The Wisconsin Asphalt Pavement Association (WAPA) announced today that the Wisconsin Department of Transportation (WisDOT) and Federal Highway Administration (FHWA) were the recipients of the 2016 State Asphalt Award for advancing innovation in asphalt pavements. The organizations were recognized today (November 29) at a ceremony during the association's 57th Annual Conference in Madison, WI.
FHWA and WisDOT's Southwest Region were named the winners for D.L. Gasser's work on State Trunk Highway (STH) 21. In March, FHWA announced that WisDOT was one of 10 states selected to take part in an asphalt pavement density demonstration project for 2016. The goal of the project was to show that an increase in in-place density could be achieved with minimal cost. A central component of the demonstration was not to change design minimums, but to build pavements as planned and then continue compaction to achieve better density.
"One of our priorities in Wisconsin is pavement durability, and we know that adding liquid asphalt cement (to a limit) improves the performance of asphalt mixes," said Deb Schwerman, Engineering Director for WAPA. "The big question has been: How do we add more asphalt cement effectively?"
Following techniques used in neighboring states, Wisconsin developed a method to get more effective adhesive into the mix. It's called "air void regression," and the idea is to keep the design method the same; then determine how much additional virgin asphalt cement is needed to achieve 3.0 percent air voids instead of 4.0 percent. The 3.0 percent target is associated with a more durable asphalt.
"Achieving the lower air void target takes work. It requires a narrower tolerance band in production, with plants dialed-in to create a mix that matches what was designed in the lab – and that remains consistent day after day," said Schwerman. Wisconsin participants seized the opportunity to add an air void regression component to the demonstration. WAPA member D.L. Gasser Construction built the pavement test sections on STH 21.
Section 1, the control section was constructed with 4MT58-28S hot mix and 12.5mm (#4) Nmas aggregate with 3 rollers to achieve 4.0% air voids. A range of variables are under examination in the seven test sections: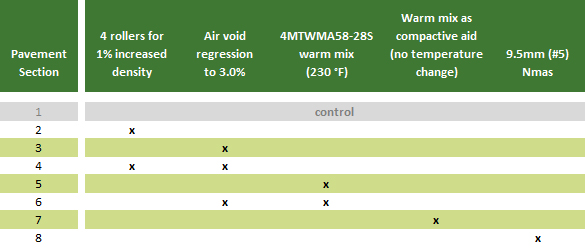 As a follow-up, WisDOT will be cutting cores to evaluate the level of compaction achieved and comparing results to the nuclear density data to validate which sections had the most impact on overall density of the mat.
"We are excited about the results, which may point the way to pavements that continue to exceed expectations for durability and performance," concluded Brandon Strand, Executive Director for WAPA.
# # #
"Asphalt. Wisconsin rides on us." Established in 1948, WAPA is a statewide, non-profit organization representing the interests of the asphalt industry. WAPA members serve the Wisconsin DOT, counties, municipalities, towns, commercial, and private customers. WAPA's mission is to keep asphalt the number one choice for pavements by building quality roads in a safe, environmentally friendly, and cost-effective manner that is in the best interest of the customer and the state.
For more information, please visit www.wispave.org or contact Brandon at strand@wispave.org