The warmer weather signals the start of another construction season. Even as the Wisconsin asphalt paving community is getting to work on new projects across the state, many have taken the time this spring to participate in events dedicated to the constant improvement of our industry and our product. From outreach with lawmakers to technical training sessions and seminars, Wisconsin asphalt stakeholders are working together to make sure we keep putting the best product on the road and continue to serve transportation users in our state to the best of our ability.

When it comes to making the case for transportation funding on Capitol Hill, nothing compares to face time with our legislators. We had the opportunity last month to go to Washington, D.C., and make critical personal connections with nearly every Wisconsin representative there.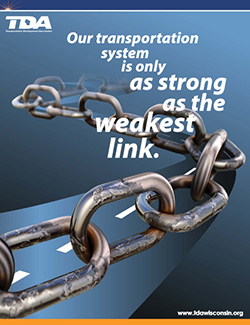 On March 24, the Wisconsin Transportation Builders Association (WTBA) facilitated our meetings with Congressmen Mark Pocan and Sean Duffy, followed by a dinner with Congressman Reid Ribble where we exchanged thoughts about where transportation funding is heading.
On March 25 we had productive meetings with Senator Tammy Baldwin and Congressmen Paul Ryan and Glenn Grothman.
The main takeaway from these meetings was that Wisconsin's representatives on both sides of the aisle are committed to finding a long-term funding solution (though a short-term fix may yet be necessary). While opinions vary on the best path forward, the candid discussions were extremely valuable.
I also made sure to pass along information on WAPA to every legislator we talked to. I stressed the size of the asphalt pavement network in Wisconsin and the benefits of asphalt—to drivers and to the economy alike. I encouraged plant tours and made sure to let congressional leaders know which WAPA members are in their districts.
The afternoon of March 25 kicked off the official agenda of the Transportation Development Association (TDA) of Wisconsin's 2015 Fly-In. The theme this year was "Our Transportation System is Only as Strong as the Weakest Link." Highlighted speakers included representatives from the American Road & Transportation Builders Association, and staff of the House Transportation and Infrastructure Committee and the Senate Environment and Public Works Committee (see the full agenda in the Fly-In Guide [PDF]).
TDA's companion Issue Paper [PDF] spells out the dire need for Washington to authorize the Surface Transportation Program prior to the May 31st expiration. The Issue Paper calls for re-establishing the purchasing power of the gas tax, facilitating a rapid transition to a fuel-neutral user fee, and maintaining trust fund firewalls and multiyear contract authority. (The paper calls out critical funding needs for other transportation modes as well.)
WAPA greatly appreciates the efforts of WTBA and TDA for helping us share our common concerns in Washington. The stakes are extraordinarily high, and it is critical to keep the big picture of federal transportation funding at the top of our elected officials' minds.

Back in Wisconsin, efforts by WisDOT and WAPA helped prepare state and industry staff alike for the 2015 paving season. For the second year running, WisDOT held a series of Hot Mix Asphalt Training sessions, with technical content presented by WisDOT's Barry Paye and WAPA's Deb Schwerman.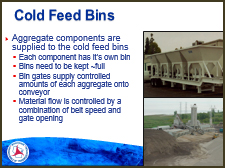 The course is designed to support recent state requirements that call for inspection of all asphalt paving jobs exceeding 5,000 tons. It serves as an orientation for individuals new to asphalt paving operations and as a refresher for veterans. The day-long workshop was offered five times across the span of February and March, once in each of WisDOT's five regions. In total 250 people attended, representing WisDOT state and regional office staff, contractors and consultants.
The educational goals of the training (read the Full Course Outline [PDF]) are to:
Define risk and safety concerns during HMA production and pavement construction.
Explain the process of HMA Mix production and placement.
Describe the HMA parts of the Quality Management Program (QMP) plan and explain how to administer the plan.
Analyze situations seen during construction and learn how to solve paving problems in the field.
Explain how to document and track HMA paving in daily diaries and other contract documents.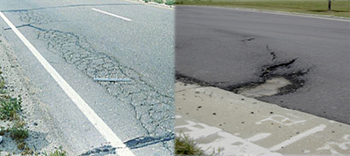 Schwerman reported that feedback on the training has been positive. "Attendees have found the training to be very beneficial," Schwerman says. "Even asphalt plant and paving veterans have told us that they have taken a lot away from the training."
Schwerman noted that the course covers a range of topics pertaining to inspection and carefully steps through the process of data evaluation and project approval and sign-off. "The course helps people understand why things are done in a particular way," Schwerman says. "Just as importantly, it fosters clear communication between the people involved in project delivery and approval. Those good relationships help everyone build quality pavements together."
Schwerman expects the HMA Inspection Training course to be offered again next year. Those interested in joining in 2016 should keep an eye on WisDOT's Training Calendar (follow links to "View and Register" and then "Classroom Training") or call WAPA in the fall for details.

Association member Northeast Asphalt sponsored a Regional Seminar in early April in Appleton. WAPA helped put together the program, securing speakers from government and industry to address issues of particular regional interest and timely topics related to asphalt pavements (read the Seminar Agenda [PDF]). Attendees had the opportunity to interact and ask questions, and professional development credits were available for attendees.
This annual event has proven to be an outstanding opportunity for Northeast Asphalt to build relationships with its local government partners. An invitation to every town, municipality and county in which Northeast does work netted some 175 attendees for the event.
It was also useful for WAPA to connect with town and county representatives; we find it helps to have these personal connections already in place when the occasion arises for us to work with local government offices.
Other WAPA member companies offer similar conferences to their constituents, and we encourage additional members to do so as well. We would be happy to help other members put together similar regional programs. WAPA can do the heavy lifting and pull together a program with your assistance to meet the needs of your constituents.

In early March, Deb Schwerman had the opportunity to participate in the annual Transportation Improvement Conference cosponsored by the American Council of Engineering Companies (ACEC) of Wisconsin and WisDOT. The conference was well attended by WisDOT staff, and the theme of Innovation Builds Wisconsin provided a range of useful technical sessions.
Among these, a session on Alternate Contracting Methods from Other States was particularly timely given three Construction Manager / General Contractor (CMGC) projects proposed in WisDOT's budget. CMGC is very different from what we're used to here. It was fascinating to learn how it has played out elsewhere, and that perspective will help everyone be prepared if Wisconsin decides to move forward with pilot projects.
WisDOT's technical session New Pavement Technologies featured a cold in-place recycling project conducted by Mathy Construction last year. Interest in this technology is high (see the next article as well as Dan Grasser's 2014 WAPA Presentation [PDF]), and it comes as no surprise to see a WAPA member at the vanguard.
WAPA played a role at the conference as well by contributing materials to WTBA's Matt Grove that he incorporated into the technical session Cost Estimating Procedures, Tools and Considerations.
The conference was also a forum to recognize outstanding projects through ACEC Wisconsin's annual Engineering Excellence Awards [PDF]. Three WAPA members were honored, including GRAEF, which won a best of state award. Congratulations to all!
GRAEF
Special Projects—Best of State
UW-Milwaukee Innovation Campus Infrastructure for the UWM Real Estate Foundation
Bloom Companies LLC
Special Projects—State Finalist
Historic State Office Building Envelope Repairs for the State of Wisconsin Division of Facilities Development

Baxter & Woodman Inc.
Water & Stormwater—State Finalist
Wastewater Treatment Plant Improvements for Village of Paddock Lake
(Images courtesy of ACEC)


WisDOT sees significant cost saving and environmental benefit from in-place pavement recycling. The agency's priorities are evident in the pilot projects it continues to support, with three in-place recycling projects planned for 2015.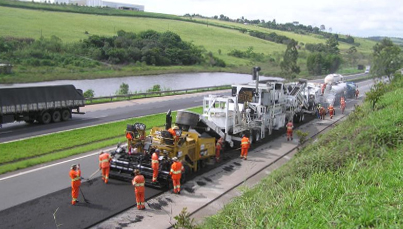 As a partner in the National Sustainable Pavement Consortium pooled fund program, WisDOT hosted a Pavement In-Place Recycling Workshop for DOT staff in late March. The event brought experts from Oklahoma State and Virginia Tech who presented on different aspects of in-place recycling: project selection criteria, mix and thickness design, sustainability, and QA/QC.
We commend WisDOT for taking the initiative to work through pooled funds and national consortiums to put on excellent programs of this type for its employees. We are also grateful to the agency for letting WAPA and a few of our members sit in on this technical session. This was made possible through the strength of the public-private partnerships in Wisconsin and the good working relationship between WisDOT and Wisconsin's asphalt pavement industry.

It's great to see the extensive attention being paid to improving asphalt pavement in Wisconsin. This kind of dedication is the reason our state's transportation system is second to none.
WAPA would be happy to help create additional learning opportunities like the ones described in this Executive Update. If your staff or your company would benefit from similar presentations, workshops or lunch-and-learn sessions on topics illustrated here, or any others, please give us a call or drop us a note.

Thanks for taking the time to catch up on what we've been working on and, as always, please don't hesitate to contact us if you have any questions or if there is ever any way we may be of assistance.

Thanks again and have a safe construction season.



Brandon Strand
Wisconsin Asphalt Pavement Association