The annual meetings of the National Asphalt Pavement Association and the Transportation Research Board always make for a busy January. These events bring together Wisconsin's counterparts from all 50 states—contractors and consultants, DOTs and local agencies, researchers and experts—as well as federal representatives and national advocates. The dialogue covers everything from policy and funding to asphalt pavement pilot projects and cutting-edge technology.
WAPA had both of these events covered in 2015. I participated in the NAPA meeting in Marco Island, Florida, and Deb Schwerman took part in the TRB meeting in Washington, D.C. We brought a Wisconsin perspective to the table at these meetings, and we listened closely for details on the topics that we knew matter most back home.
We're sharing what we learned in a two-part Executive Summary, "Making National Connections." This month features key takaways from the NAPA meeting, and in March we'll focus on national research featured at both NAPA and TRB.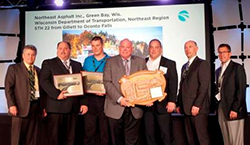 A discussion of the 2015 NAPA meeting must begin with the exciting news that WAPA member Northeast Asphalt won the 2014 Sheldon G. Hayes Award for excellence in construction of an asphalt pavement. The award recognizes the country's highest quality highway pavement.
Northeast Asphalt Inc. and the Wisconsin Department of Transportation Northeast Region were named the winner for Northeast Asphalt's work on State Trunk Highway (STH) 22 from Gillet to Oconto Falls.
Just one Sheldon G. Hays Award is given annually, making the 2014 award an outstanding national spotlight for Wisconsin. Moreover, there was a second project in Wisconsin among the 2014 finalists for this honor: Payne & Dolan and WisDOT Southeast Region for work on Interstate 43/Rock Freeway from STH 83 to STH 164 in Muskego.
These additional awards were bestowed on Wisconsin companies at the meeting:
Northeast Asphalt Inc. also won a Larry H. Lemon Quality in Construction Award (top pavements under 50,000 tons) for work on STH 45 in Oneida County.
Payne & Dolan received a Quality in Construction Award (top asphalt pavements over 50,000 tons) for work on I-94 in Madison.
Payne & Dolan, Northeast Asphalt and Rock Road Companies received recognition for several Diamond Achievement Awards for quality and sustainable achievement.
Projects like these and many others illustrate the quality and workmanship that Wisconsin's asphalt pavement industry can produce (particularly in our challenging climate). For more information on Northeast's and Payne & Dolan's projects, please read the NAPA Award Page. WAPA congratulates everyone involved.

NAPA attendees got down to business, and the top items of the day were clearly funding and reauthorization of federal highway aid. As a voting member of the Legislative Committee, I was able to represent Wisconsin on important discussions related to reauthorization progress as well as funding efforts at the state level.
In particular, the Legislative Committee meeting presented an important opportunity to voice Wisconsin's need for flexible approaches to securing revenue streams. One potentially productive solution is the use of tolling among other revenue tools. However, this would require an exemption from federal rules prohibiting the addition of tolling to existing roads. Such an exemption had been proposed by President Obama in the past, and we stressed to NAPA the importance of supporting such an exemption. Bridging the funding gap will come from creative thinking, and it's important to keep the door open to the full range of possible solutions.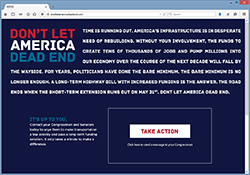 Another highlight of the Legislative Committee was an outstanding initiative taken by WAPA member Astec, a marketing campaign called Don't Let America Dead End. The centerpiece is a simple but powerful website — dontletamericadeadend.com — that helps users write the President, their Senators, and Congressional representative urging the passage of long-term highway funding. With May 31 looming as the expiration of the highway trust fund, this tool is a great way to quickly connect concerned citizens with lawmakers.
Astec also distributed related campaign materials—notecards, stickers and pens—to state asphalt associations. Please let us know if you'd like materials. I commend Astec and its affiliate companies for taking the lead on this effort. NAPA's marketing resources are limited, and this kind of initiative makes a real difference.
It was also clear in the NAPA general session presentations and workshops (read the Program [PDF]) that many of Wisconsin's interests and concerns regarding funding are echoed nationally. Here are some reflections on what we heard in those sessions.
"Increasing Highway Revenues: Anatomy of a Victory"
As Washington gridlock continues to slow down federal transportation infrastructure spending, funding responsibility has shifted to the states. Across the country, transportation legislation is being introduced at the state level to raise money for projects the federal government cannot fund. Some states have been successful and some have not. This session examined what strategies worked, which ones did not, and why a strong grassroots campaign is a game changer.

Our View—Wisconsin's "Vote Yes" campaign was a case study in effective grassroots coalition building, and there are models from around the country that can help not only protect funding in our state but grow revenue sources as well. The big takeaway from the session is that such efforts do work. Every plant tour with an official, every message to a legislator, every individual call to action—they all make a difference.

"Highway Funding from the Users' Perspective"
Representatives from three user organizations related what the highway user community is doing to work towards a long-term solution to the highway funding crunch. They shared their expectations for pavement smoothness, rideability, and safety; and suggestions on how contractors can work with them to achieve the shared goal of more revenues for the Highway Trust Fund.

It was refreshing to hear from transportation users, with speakers from the American Trucking Association, American Highway Users Alliance, and the U.S. Chamber of Commerce. We don't always hear these voices at the state level, and it's critical to remember the consumers of transportation—the individuals and businesses who count on a quality highway system.


Wisconsin stakeholders will want to know about these other general sessions and education presentations that resonate here in our state.
The Asphalt Pavement Alliance's driveasphalt.org examines the facets of drivability.

"Demonstrating Asphalt's Drivability Advantage: Real-World Examples"
Panelists shared real-world stories on drivability factors—pavement smoothness, ease of maintenance, performance, rapid construction, and cost effectiveness—that make the case for asphalt. Examples included how thin overlays (or Thinlays) expanded the pavement preservation market for cost-conscious city and county road owners; how the rapid construction of long-lasting stone matrix asphalt in an urban area was the only viable solution for a deteriorating concrete roadway traveled by commuters; and how warranties and building a smooth Perpetual Pavement paid dividends for a contractor.

WAPA is a true believer in this message. The Benefits of Asphalt page on our website highlights these drivability features of asphalt, as do the sites we recommend like driveasphalt.org.

"Quality from the Top"
From the executive suite to the paving crew, leadership, management and a focus on quality all affect the quality of pavement produced. This session discussed how corporate leadership from the top contributes to higher quality, higher performing, longer-life asphalt pavements.

These principles are no secret to WAPA members. Good communication from the top down and a quality-driven corporate culture are essential to a final end product, as demonstrated in WAPA members' participation in improvement efforts at all levels.


FHWA's TechBrief on Life Cycle Assessment of Pavements is an excellent resource.

"Life-Cycle Assessment (LCA) for Asphalt Pavements"
Public agencies and regulators are increasingly adopting missions that measure the environmental sustainability of products and processes. As a result, many transportation agencies are looking to use life-cycle assessment tools as a way to better understand the current status of LCA implementation in North America and provide guidelines for stakeholders to adapt them for decision support at the project level.

This session helped provide a conceptual understanding of the LCA processes and outcomes, and how they are used for making decisions. We look forward to seeing how this takes shape in Wisconsin.

"Increasing RAP Use: Lessons Learned from NAPA's Industry Tour of Japan"
Japan, on average, uses 45 percent RAP in asphalt pavements. NAPA and selected agencies toured Japan to learn how the country achieved such a high average through a major industry initiative. This session highlighted the lessons learned, and best practices and technologies that can quickly be implemented in the U.S. paving market.

International best practices on high-RAP use can help inform practices back home and provide insights on future impacts of our industry. It's worth noting that WisDOT was among the four DOTs invited to participate on the tour of Japan's practices due to the high-profile RAP/RAS pilot projects in partnership with WAPA members.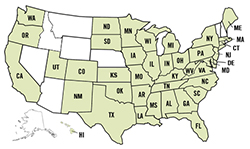 The NAPA meeting was also a chance to connect with other states at the State Asphalt Pavement Associations meeting that preceded the event. It was very helpful to learn about best practices and news from WAPA's counterparts from other states.
Updates included competitive marketing initiatives from the concrete pavement industries in other states, surface treatments being promoted throughout the country, and how other state DOTs are spending limited asphalt budgets on asphalt products. It was also a great opportunity to share Wisconsin successes, like the many pilot projects conducted in partnership with WisDOT in 2014 and planned for 2015.

It is always rewarding to be among peers, industry leaders and experts at the NAPA meeting. It was abundantly clear at the 2015 NAPA meeting that Wisconsin's asphalt pavement industry—together with our partners at all levels of government—is among the leaders in the United States. It's a tribute to everyone committed to our state's transportation system.
The message to think globally and act locally comes to mind too. We're a part of a big picture, and that always comes into high relief at NAPA, but the hard work needs be done back here in our state. We're no strangers to hard work in Wisconsin, though, and I look forward to a great year of delivering on the promise of moving our industry forward and delivering top-performing asphalt pavements.
Thank you.



Brandon Strand
Wisconsin Asphalt Pavement Association