Asphalt is already the most recycled product in the world, and one particularly green technique allows it to be reused on the spot. Cold in-place recycling (CIR) is a rehabilitation technique where existing pavement is incorporated straight into a new pavement.

With CIR, an old pavement is converted to RAP by milling, planing or crushing. Without applying heat, RAP materials are mixed in place with recycling agents, commonly foamed asphalt emulsions, and then laid, compacted and overlaid with a wearing asphalt surface.

CIR has enjoyed success for years in different parts of the United States, and recently Wisconsin has taken steps to realize the benefits in our state.

A range of benefits
Jed Peters, WisDOT Pavement Research and Warranty Engineer, goes to the "three E's" when talking about CIR: engineering, economics and environment.

"From an engineering standpoint," Peters explains, "CIR creates a layer like asphalt pavement, but not quite as stiff. It's soft enough to absorb stresses and serve as a crack relief layer. That slows bottom-up cracking and improves performance."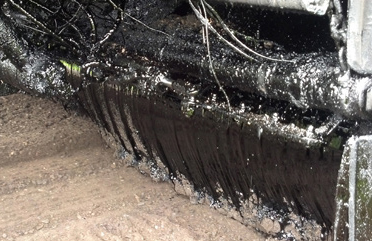 Those engineering properties have direct implications on the second "E"—economics. Better performance means longer life, extended time to required maintenance and overall lower life cycle costs. Beyond that, CIR layers provide structure, which makes it possible to construct thinner overlays—a savings on material costs. As a rule of thumb, every inch of CIR translates to a reduction in required surface thickness by three-quarters of an inch, to the limits of the minimum design thickness.

Peters notes that the new thin pavement designs WisDOT is developing (see our article on thin asphalt overlays) can work in tandem with CIR to help realize the potential savings. Speaking of this kind of synergy between different initiates, Peters says, "It's great to see the administration supporting all these efforts. I think they're going to help us in a lot of different ways, and we're going to reap the rewards for years to come."

The benefits to the environment (the final "E") are a standout of CIR. "By reusing materials in place, we don't have to expend energy on hauling recycled product to or from the construction site," Peters says. "We also save energy that would be used in the plant, either for heating new asphalt or for heating up plant-recycled RAP. Also, by reusing materials, we reduce the amount of virgin materials used. There are significant environmental and energy costs involved in acquiring new construction materials, transporting them and transforming them into asphalt pavements. The savings with CIR are huge."

Initial success in Wisconsin
CIR is more than just a good idea in Wisconsin. It's happening.

WisDOT used a special provision to demonstrate CIR in a 2012 project on Wisconsin Highway 48 in Polk and Burnett counties. WAPA members Mathy Construction and W.K. Construction were both involved on this project. Tim Jones, Vice President of Operations at Mathy Construction, says WAPA members have a lot of experience with this technique. "In addition to a few county jobs in Wisconsin and the Highway 48 project, there has been a lot of CIR work in neighboring states, particularly Iowa," he says. "Wisconsin's asphalt industry can definitely meet WisDOT's needs as more CIR projects move forward."

WisDOT's Peters says that the 2012 pilot project was a valuable experience for the agency. WisDOT used the lessons learned on that project, along with specifications from other states and input from industry, to draft special provisions for additional pilot projects. Peters reports that FHWA has approved the draft for use as pilot specifications as well, a necessary step for federally funded construction projects.

Another outcome of the pilot project was recognizing the need to develop CIR guidance. Wisconsin's asphalt oversight group, the Green Team, is directing development of such materials. An online course is envisioned, and Peters expects that the final WisDOT provisions for CIR will include training requirements for the contractors and inspectors involved in CIR work.

The agency plans to move forward with additional pilot projects. Peters explains that the timing may or may not be right to undertake these in the 2014 construction season. "We may yet have an opportunity this year," he says. "If not, then I'd expect to see pilot projects in the 2015 letting. We're very excited to move forward as quickly as we can and keep taking steps toward a standard specification for this practice."