The Wisconsin Asphalt Industry Insider is a platform for WAPA members to share what's new and exciting at their companies with pavement owners, operators, and contractors across our state. We hope you find this information useful!
Do you understand rejuvenation? Engineered Additives led the marketplace into green rejuvenation with proven green chemistry, producing High RAP mixes meeting all performance criteria. We can help you make a better product and save money with green chemistry.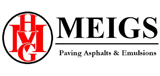 H.G. Meigs, LLC Provides Rehabilitation Options for Wisconsin's Roadways




The 2017 Infrastructure Report Card compiled by ASCE reports a backlog of $420 billion to repair our nation's public roadway infrastructure, with 27 percent of Wisconsin's public roads rated in "Poor" condition. Pavement owners are now forced to reconsider their asset management strategies in order to begin reducing this backlog.
Asphalt Emulsion Stabilized Full-Depth Reclamation (S-FDR) is one such process helping owners successfully address pavements that show extensive structural failure and have reached the end of their functional service life in Wisconsin.
S-FDR utilizes existing pavement materials stabilized with asphalt emulsion to produce a structurally enhanced base layer.
Since S-
FDR layers generally provide greater structural support relative to granular or non-stabilized layers, the required thickness of the overlay materials may be reduced to maintain an equivalent structural capacity.
In some low traffic volume projects, a double chip seal has been applied directly on the stabilized layer with success, thereby eliminating the need for paving completely!
In these instances, the S-FDR process can also minimize or even eliminate the need for expensive shouldering work and helps to limit the creation of steep shoulder slopes, saving on maintenance costs for mowing, ditching, or clearing right-of-way.
Of course, proper engineering analysis should be conducted to determine whether S-FDR is the right process for a given project.
H.G. Meigs, LLC is a manufacturer and supplier of asphalt emulsion and paving asphalt products, and with the support of two nationally accredited materials and design laboratories is dedicated to serving the asphalt material needs of Wisconsin and the Upper Midwest.

Miller-Bradford & Risberg, Inc. is now offering
Carlson Paving Products' CP130 paver, launched in Q4 of 2017. This is Carlson's newest paver and the largest in the portfolio.
The key features and specifications are:
130 HP Cummins Tier IV Final engine.
9.5 Ton Hopper.
8'-15' electric heated Carlson screed with power extension height, power slope, and power crown.
Heavy duty rubber track undercarriage.
Heavy duty highway class wear components that deliver highway class paver quality pavements and long machinery life to a commercial class paver.
About Miller-Bradford & Risberg
The asphalt paving industry faces unique challenges and

Miller-Bradford & Risberg

has many skilled professional trained to provide solutions that enhance the productivity of the equipment and performance of asphalt pavements.
Focus on the asphalt paving industry for over six decades provides a wealth of knowledge that

Miller-Bradford & Risberg

personnel can draw on when finding ways to successfully meet the challenges we face.
Whatever your equipment needs are, you can find it at Miller-Bradford & Risberg. We carry construction equipment from CASE, Kobleco and NorAm; road maintenance equipment from BOMAG, MacLean Engineering, Midland and Carlson; lasers from Topcon; specialty drilling equipment from Sandvik; trench boxes and shields from Efficiency Production, Inc.; trailers from Rogers and Towmaster; attachments and accessories from BIC, Teamco Inc., Indeco and Hensley; and filters from Fleetguard.
Roland Machinery Company
reports that
the n
ew DV+ 70i and DV+ 90i tandem rollers from Hamm offer the highest productivity to roadbuilders via their enhanced technology and ergonomics.
The 7.7-ton (7-mt) DV+ 70i was introduced in March at Conexpo-Con/Agg 2017, and the 9.9-ton (9-mt) DV+ 90i will be available in January 2018.
The DV+ 70i and DV+ 90i are available in three versions:
A double vibration roller (VV)

An oscillation roller (VO) with vibration drum at front and oscillation drum at rear

A combi roller (VT) with vibratory drum front and pneumatic tires at rear
All vibration drums are split.
In addition, the rollers can be equipped with various chip spreaders; the HCQ Navigator intelligent compaction measurement and documentation system; country-specific lighting; edge pressing and cutting equipment; and many other extras.
These highly productive, pivot-steered rollers represent the pinnacle in asphalt compaction, and meet all requirements for optimum compaction quality. Operators are enthusiastic about the excellent visibility and the new, intuitive Easy Drive operating concept, which is common to Hamm DV+, HD+ and H compactors.
An intelligent drive control -- plus pivot steering with four steering modes and large turning angles -- form the basis for the highest possible compaction quality. The design is well thought out, enabling an excellent view of the drums and the work environment, an important point when it comes to getting the smoothest mats and satisfying the strictest quality and safety requirements.
The Troxler EGauge™ Model 4590 Soil Density Gauge is a nondestructive testing device that uses gamma ray and electromagnetic technologies to determine the wet density and moisture content of soils. Its highly efficient detector utilizes a low-activity radiation source, which allows the gauge to provide accurate data
without being subject to United States licensing regulations.
The Word on the Street (It's Good)
During evaluations by several independent groups, the EGauge's performance compared very favorably with currently accepted nuclear density measurement methods that have been in use for over forty years. Two such studies are available from the
U.S. Army Corps of Engineers
and the
University of Delaware
.
No Special Density Calibration Needed
The EGauge requires no special field calibration for wet density measurement.


User-Friendly
The EGauge functions like other nuclear density gauges and is easy to use. Because it does not require licensing, you can transport the EGauge without the restrictions of a traditional nuclear gauge.


About Us
Since 1958, Troxler has been the worldwide leader in precision quality control and measurement equipment and instrumentation for the highway and construction industries. We are dedicated to providing premier service, maintenance, and training for all our products through our international sales and support offices in the United States, Canada, China, and Germany and over forty distributors around the world. How can we help you? Call us at 1-877-TROXLER or visit
www.troxlerlabs.com
today.
President - Jonesy Jones, Welch Brothers

Vice-President - Scott Touve, Concrete Specialties Corp.

Secretary/Treasurer - Chad Hoeppner, County Materials Corp.

Past President - David Sobkowiak, County Materials Corp.

Board Member - Nick Martinec, Welch Brothers

Board Member - Glen Hoeppner, County Materials Corp.
WCPA members provide reinforced concrete pipe to the construction industry as a cost-effective solution to storm drainage by protecting the asphalt pavement constructed over it.
Contact Executive Director Clark Wantoch at clark4concretepipe@wcpa.com or call (414) 327-5272 for a Lunch & Learn presentation. Learn about the benefits and cost-effectiveness of

reinforced concrete pipe

, as well as the risks associated with the use of alternate pipe types.
Thanks as always to all WAPA members who participated in this newsletter.
See the
Conference Page
for the full conference agenda and hotel information.
Space in our discounted room block is limited -- make your reservation today.
In addition to the General Session presentations, we will again offer professional development hours for Technical Breakout Sessions, including the following:
Back to Basics: Asphalt Binder


Asphalt binder is the glue that holds a mixture together. Choosing the right type of binder is critical for long-term performance of pavements. This session looks at asphalt binder's properties; how it is produced; and how to choose the right binder--including considering modified binders -- for the job.

Back to Basics: Volumetrics in Asphalt Mixtures
Understanding volumetric properties is important in understanding how an asphalt mixture will perform. Asphalt technologists commonly toss around acronyms and terms like VMA, VFA, and bulk specific gravity, but do we really understand what they represent? This session demystifies asphalt mixture volumetrics and explains how volumetric properties interact.

Back to Basics: Work Zone Safety


Road construction and work zones can be hazardous not only for drivers, but for workers on the job site. By reducing disruptions to traffic flow, you can minimize liabilities and prevent accidents. In this session, you will learn how to meet Wisconsin requirements for work zone traffic control, improving the safety of your workers and all road users.

Ethics Training


Back by popular demand, this session will focus on the fundamental canons of professional conduct and other appropriate administrative rules and regulations. The discussion is designed to demonstrate a working knowledge of professional ethics and satisfy the requirement for "professional conduct and ethics".

Sub-Base Stabilization


Soil stabilization with the addition of various additives can be effective in the construction and life of a pavement structure. In this session, construction sequences and methods suitable for soil stabilization operations will be discussed. The presentation will feature a step-by-step procedure for using soil stabilization as well as how to select the type and amount of a stabilizer to use with specific soil types.

Warm-Mix Asphalt


Warm-mix asphalt is the generic name for technologies that allow producers to lower the temperatures at which the material is produced and placed on the roadways. In this session, you will learn about the engineering and construction benefits of warm-mix asphalt including better compaction of pavements; the ability to pave at lower temperatures; and cutting fuel consumption and decreasing the production of greenhouse gases.
As always, please don't hesitate to contact us if you have any questions or if there is ever any way we may be of assistance. Thanks again, and see you in November.