The Wisconsin Asphalt Industry Insider is a platform for WAPA members to share what's new and exciting at their companies with pavement owners, operators, and contractors across our state. We hope you find this information useful!
The Walbec Group
is a family of companies that have collectively served the needs of their customers for over 85 years. Together Payne & Dolan, Inc., Northeast Asphalt, Inc., Zenith Tech, Inc., Premier Concrete, Inc. and Construction Resources Management, Inc. provide professional construction and engineering services in addition to producing quality construction materials.
Our mission is to help people reach their destinations, and we do that by maximizing our value as a contractor by working smart and safe, developing and following quality performance standards, continually seeking innovative solutions, treating everyone we encounter with respect, and supporting ideas that strengthen the communities in which we live and work.
Engaging in the community through events shown here allows us to educate the next generation and get them excited about what we do and how they can become a part of that in the future. We believe strongly in building relationships at all levels through tours of our sites, participation in activities at educational institutions, and partnering with community-based organizations to reach common goals together.
We know we are all better together, and we support building a diverse and world-class organization to continue to solve complex problems for many years to come.
TRI-STATE ASPHALT: Celebrating 35 Years in the Asphalt and Emulsion Supplier Business
Tri-State Asphalt is proud to say that it has been supplying the highest quality asphalt and emulsion products to the road and industrial industry for the past 35 years.
With its professional and talented laboratory technicians, Tri-State develops, tests and customizes materials that can be produced to meet all DOT specifications and AASHTO testing requirements across the United States.
Tri-State offers many products and services, such as custom mix designs and formulations for asphalt and emulsion products. From toll manufacturing to specialized products such as trackless tack and longitudinal joint sealant, Tri-State delivers products directly to a plant or job site with its dedicated state-of-the-art fleet. After 35 years and counting, Tri-State strongly believes that providing exceptional customer service and products is the key to ensuring customer satisfaction.
Tri-State supplies the following materials:
Longitudinal Joint Sealant

Non-Tracking Tack

Fast Curing Tack

Prime

Polymer Modified Asphalts

Industrial Emulsions

HP/Emulsion Based Cold Mix

PG Binders

Cutbacks

Dust Control

Chip Seal

Microsurfacing

Fog Seal

Cape Seal

Slurry Seal

CIR

FDR

Crack filler

Sealcoat Emulsion

Cold Patching

Toll Manufacturing

and More
For over 100 years Rock Road has worked to provide Southern Wisconsin and Northern Illinois with the highest quality construction materials and services.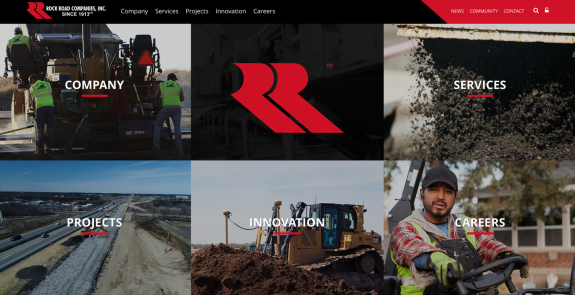 This year, we are pleased to announce that Rock Road Companies has acquired Wolf Paving. This acquisition has created new opportunities for employees, customers, and the communities in which both companies provide services. Rock Road and Wolf Paving will operate as separate sister companies acting as a subsidiary of William J. Kennedy Holding Company.
Due to this acquisition, Rock Road has developed the William J. Kennedy Holding Company and named Steve Kennedy the President. Bob Kennedy was named Chief Executive Officer of Rock Road Companies, Sean Kennedy was named President of Rock Road Companies, Jacob Mrugacz was named president of Wolf Paving and Bill Kennedy was named Chairman of the Board of Rock Road.
Over the winter Rock Road opened a new state-of-the-art QAQC lab. Our Quality Control Engineers and technicians are constantly using the latest technology. This allows our engineers to use their innovative ideas and methods to develop the highest quality of products.
| | |
| --- | --- |
| | |
Due to the growth Rock Road has experienced this year, we decided to update our online presence. Rock Road is pleased to have a website that represents the quality of work we produce. Please visit us at www.rockroads.com to stay updated on all things Rock Road!
PROTACK: Asphalt Spraying Experts Throughout The Midwest
ProTack is the #1 trusted source for spraying asphaltic products throughout the Midwest.
Offering quality products and services with a large fleet of
state-of-the-art trucks, ProTack is dedicated to its customers' success.
As a woman-owned and -operated business, through bold leadership, ProTack
is devoted to delivering the best. By helping clients reach their project goals in a timely and affordable manner, ProTack continues to take the asphalt industry by storm.
Longitudinal Joint Sealant

Tack Coats

Non-Tracking Tack Coats

Prime Coats

Containment Berm Spraying

RPE/ Hot Mix Asphalt Correction

Slope Wall Spraying

Dust Control

Sanding

Sealers

and More
Meyer has Doubled Down on Repairs -

Wm. W. Meyer & Son's Triple Threat Rotary Valve Solutions Eliminate Downtime
Wm. W. Meyer
has opened a 7,000-square-foot service and repair facility in Minneapolis, Minnesota which services all makes and brands of rotary valves including MEYER, Smoot, MAC, and Barber Greene. Along with its Libertyville, Illinois plant, this second location specializes in USDA and sanitary designs.
With two fully focused service centers in Chicagoland and the Twin Cities, Meyer's manufacturing expertise keeps companies up and running.
Among the services offered are:
Same-day shipments on new stocked Asphalt Valves

Sizeable cost savings on remanufactured airlocks

Pure rebuilds to extend warrantable life at a fraction of the cost

A 12-month warranty
With this increase in Meyer's service and repair capacity and the free inbound shipping offered, Meyer is committed to decreasing downtime for its customers.
Now in its fourth generation, Meyer has focused on developing a solid foundation with the best people, state-of-the-art equipment, and excellent physical plants.
Meyer Industrial Solutions Division produces premier system components for dry bulk material processing equipment, pneumatic conveying, and dust collectors.
Call today to inquire about FREE inbound shipping and repair estimates. (800) 963-4458.
Do you think you have to stop paving just because temperatures drop in the fall and winter?
Watch the
latest video
from
Ingevity
about the experience of Payne & Dolan's Paul Bentley.
Bentley shares some remarkable footage of a WMA project in upper Michigan when some unexpectedly cold weather and snow showed up mid project. Evotherm helped finish the project without slowing them down one bit.
Husky Asphalt is ramped up and ready for a busy and productive 2019 paving season in Wisconsin and the Upper Midwest. Our Crookston, Minnesota and Rhinelander, Wisconsin terminals are fully stocked and ready with a full suite of products.
There continues to be a great deal of interest in the status of the Superior Refinery. We are making steady progress. Demolition work is now under way and construction on the refinery rebuild is expected to begin this fall, pending regulatory approvals. The investment in the rebuild is estimated to be more than $400 million, ensuring the refinery will continue to contribute to the region's economy.
Key features of the rebuild project:
The refinery will be rebuilt with the same capacity and will produce a full slate of products including asphalt, gasoline, diesel and fuel oils.

The rebuild will use Best Available Control Technology (BACT), which incorporates advances in technology and efficiencies made by the refining industry.

Local contractors and services will be employed in the rebuild whenever possible.

The project is expected to create 350 construction jobs at peak.

The target to resume partial operations is late 2020.
The Superior Refinery directly employs about 200 workers and its annual payroll contributes to economic growth throughout the Superior-Duluth Region.
Fiber Specialist, Dan Large, at FRC, LLC has been teaming up with FORTA
to provide solutions to cracking and rutting in the great state of Wisconsin. FORTA-FI® Reinforcement Fiber for Asphalt Pavement has been increasing in popularity due to its proven history of reducing rutting & cracking in a wide range of projects.
Adding FORTA-FI offers the following advantages:
Reduced Rutting - Asphalt pavements reinforced with FORTA-FI are able to withstand higher traffic volumes with reduced rutting compared to traditional pavements.

Reduced Cracking - FORTA-FI greatly reduces cracking when compared to a control, offering proven life extension in even the harshest of climates.

Overall Reduced Maintenance Costs

- FORTA-FI is unmatched when it comes to aiding in extending the life of asphalt pavement. By reducing cracking and rutting, time and money typically spent on repairs and out of service time is greatly reduced.
This can all be done without changes to the mix design! And with unmatched support!
Let FORTA-FI be your solution for your next pavement or overlay!
Randy Holladay, currently the Account Manager at FHR Dubuque, is relocating to FHR's Pine Bend refinery office. Randy has been in Dubuque for three seasons and has done well for FHR. His move is necessitated by an employee transferring within FHR. Randy, who moved in the snowiest February on record, is taking on a new role, and his wife, Whitney, is expecting!
Taking Randy's place will be Jake Mawe. Jake was a construction foreman/estimator with Oldcastle in Des Moines, IA. He received his Civil Engineering degree from Iowa State University and has been in the construction business for 5+ years. He is moving to the Dubuque area and will be responsible for FHR's facilities in Dubuque, Davenport, Stevens Point, and Green Bay.
How much do you really understand about High RAP?
Engineered Additives committed to leading a skeptical asphalt marketplace into performance-based green rejuvenation in 2007, well before the idea of High RAP mixes became popular.
We know the challenges of working with RAP and RAS. Supported by credible university analytical results, we have repeatedly demonstrated our knowledge and experience by our successes.
We have provided High RAP/RAS rejuvenation with green chemistry throughout the United States, Canada and overseas for over 10 years.
We offer safe, effective and efficient modifiers for High RAP/RAS mixes utilizing proven green technologies to meet and exceed new performance test standards, even in warm mix mode, all in a single dose.
We also offer fast-acting low-odor cross-linkers for PMA production and other beneficial chemistry for asphalt applications.
Many new products may be entering the asphalt marketplace but Engineered Additives already has the products proven to perform and the knowledge and expertise to make them work for you.
CWMF
announces the release of it new product line, the Honey Badger Hammer Mill.
The Honey Badger is available in two models, the HB30 and HB40. Product features include a bi-directional operation (both forward and reverse), hydraulic 2-way power-pak load chute operation, easy wear plate replacement design and a 50-HP TEFC drive motor with jeep clamp drive inspection access.
Additionally, carbide-impregnated cast hammers are long-lasting and resist wear. A standard 1" grate opening with a relieved design to prevent plugging is available on stock models, and other grate openings are available upon request.
CWMF will guarantee stock on all Honey Badger wear components.
Benchmark, Inc. Announces Additions to Ownership Team
Benchmark, Inc.
, a roof and pavement consulting firm, announced Jason Brazer, PE, Senior Consultant and Elise Schmidt, General Manager/Department Head have joined the ownership team.
"I am very pleased to announce that Jason Brazer and Elise Schmidt have joined the ownership team starting January 2019," said Benchmark, Inc. President, Ron Harriman. "One of our biggest objectives has been to build a lasting company that will not only survive, but thrive in developing relationships with our clients and helping them accomplish their pavement management goals. We feel very fortunate and grateful that Jason and Elise are willing to personally invest in the future of Benchmark. I am confident their strong work ethic, high standards, and integrity will help us continue on our path of being dedicated to our client's best interests and needs."
About Jason Brazer
Jason Brazer is a Senior Consultant with Benchmark, Inc. He has been with Benchmark since 2011, and has been involved in the pavement industry since 1997. Jason provides pavement consulting services to clients throughout North America. Jason holds a Bachelor of Science degree in Civil Engineering from the University of Wisconsin Platteville. Jason is a Professional Engineer registered in nine states.
About Elise Schmidt
Elise Schmidt is the General Manager of the Pavement Division. She has been with Benchmark since 2004 and provides a variety of account management and administrative services. Elise is a member of the firm's Council and has been essential in cultivating and nurturing the specific needs of our pavement clients.
WAPA is your career connection
As a final note to readers, if you're looking to take your career in asphalt pavement to the next level (or if you know someone who is), be sure to check out Job Openings from WAPA Members.
This page is frequently updated with job opportunities from WAPA members companies like the ones featured in this newsletter.
Whether you're seeking a position in pavement construction, plant operations, engineering, or management, you can get
a step ahead of the competition by making our Job Openings page your first stop.
Thank you!
Thanks as always to all WAPA members who participated in this newsletter.
As always, please don't hesitate to contact us if you have any questions or if there is ever any way we may be of assistance.